You Won't Believe How This Boring Tile Shower Got a Total Dust- and Demolition-Free Remodel
September 30, 2016
One of homeowners' worst fears is having to renovate. The dust, debris, mess, noise, and time it takes is just overwhelming for some. This Boston resident was looking to renovate his shower. His wife had mentioned how she felt that the bathroom needed a makeover, and he wanted to surprise her with a brand-new shower. There was just one small problem – his wife was allergic to dust. Now, imagine his predicament when he realized that a traditional renovation was probably out of the question. He didn't want to give up on remodeling the shower, since it was something he knew his wife really wanted, but he didn't know what else to do. However, his resourcefulness led him to go online and search for a
demolition-free remodel
. He knew that there had to be an alternative. That's when he found out about Re-Style Your Tile and the benefits of Thin Tile, a strong yet very thin porcelain tile that goes over pre-existing tile, giving bathrooms a seamless redesign.
He contacted us right away and scheduled an appointment. On the day of the appointment, he made sure his wife would be out of the house for a couple hours while our specialists met with him. He greeted our specialists and we carefully explained how Thin Tile works and its benefits. He told the team his biggest concern was the dust that could result from the renovation, but our specialists assured him that there would be no mess during or after the process. Then, the team showed him a wide array of designs, and the homeowner chose a lovely dark grey design with pistachio mosaic tiles that he knew his wife would love. Since the team told him the process would only take 1-2 days, he came up with a plan. He would take his wife on a weekend trip to New York to visit their son, who knew about the surprise, while his sister-in-law received the team at their home to perform the job. It was a flawless plan, and our specialists were happy to help.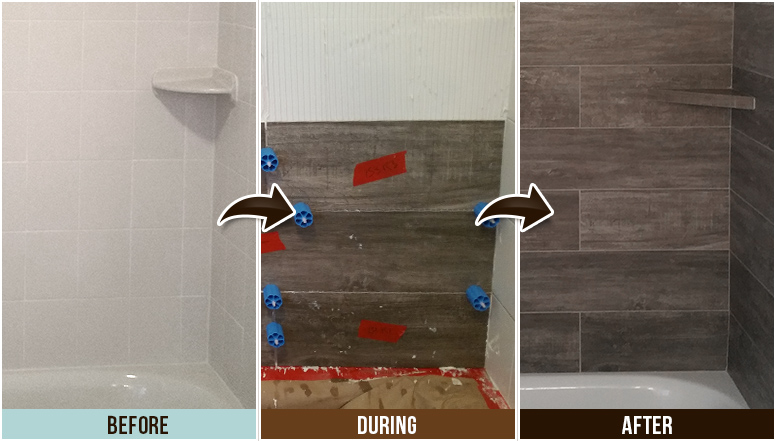 Our team arrived on Saturday, ready to give the mundane, white tile shower a modern twist. They carefully protected the tub enclosure and surrounding areas and got to work. The first step was applying our patented adhesive that creates a water- and mold-proof barrier between the old and new tile. They then applied Thin Tile over this adhesive layer. Next, they used Stainmaster Epoxy Grout in a silver tone to create durable, uniform grout lines. Since the Re-Style Your Tile Thin Tile comes in wider formats, it results in fewer grout lines and a faster installation. The whole process took just a day and a half!
When the couple returned on Monday, the husband quickly made his way to the bathroom and started to record, so his son and sister-in-law could see her reaction. He called his wife to the bathroom. She never imagined she would see a completely new shower! She was astonished and in disbelief – how was it possible that she had a brand-new bathroom? She had only been gone for two days! That's when her husband told her about Thin Tile. She thanked her husband and told him it was a wonderful change and that she was looking forward to enjoying it.
One of the great things about Thin Tile is that the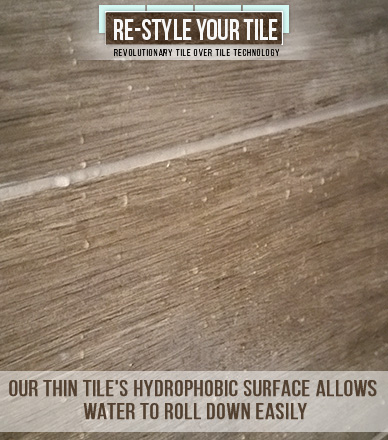 surface of this porcelain tile is hydrophobic, which means it can easily repel hard water and stains, ensuring they stay as spotless as possible. As you can see in the picture, the water easily beads and rolls down the surface. Fungi and bacteria aren't a problem either, since the tiles are treated with an antimicrobial coating that prevents their growth. This prevents potential problems and saves homeowners time, money, and the inconvenient and annoying process of removing tiles and installing new ones.
If you want to redesign your bathroom, while avoiding the messy process of replacing your tiles, you can't go wrong with Thin Tile. It is a preferable alternative and has more benefits than a traditional renovation. Plus, it only takes 1-2 days! If you'd like to find out more about this innovative way to remodel your bathroom, don't hesitate to contact our specialists at (844) 614-5500 or filling the form in this page to request a quote. You can also find us on
Facebook as Re-Style Your Tile
, and follow us on
Twitter @ReStyleYourTile
and
Instagram @ReStyleYourTile
. We look forward to serving you!