See How Re-Style Your Tile Transformed This Bathroom in Chicago, Illinois
May 21, 2016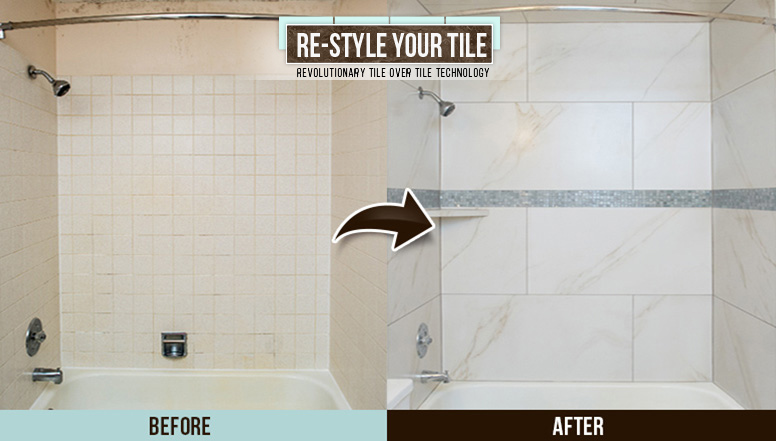 This homeowner from Chicago was struggling with a common problem: the tile surfaces in her bathroom seemed old, worn, and discolored. Even though she regularly cleaned the bathroom, time had taken its toll on the shower walls and mosaic tile floor. The tiles on the shower wall were also very small, so the homeowner invested a lot of time trying to spruce up the grout lines between them, but she had come to realize that, no matter how much she cleaned, there was never a visible difference. She decided it was finally time to update the look of her bathroom floor and shower walls. However, she needed a quick solution that would renovate the look of her bathroom without having to remove the tiles and replace them. Luckily, she found Re-Style Your Tile's innovative services. The homeowner was amazed with Thin Tile, a durable tile surface that goes over preexisting tile while creating a waterproof barrier between the two layers. This was the kind of solution this customer was looking for – a new bathroom with no demolition required! So, she called the experts at Re-Style Your Tile and scheduled an appointment with the team.
Most homeowners hold off on remodeling their bathrooms due to the hassles of demolition, especially because of the mess it causes by leaving behind dust and dirt, as well as the extensive amount of time it takes. The homeowner told the Re-Style Your Tile team she wanted to avoid that situation at all costs, and they were happy to inform her that since Thin Tile goes over preexisting tile, there would be no debris left behind and the process would take no more than 1 - 2 days. They also fully explained how Thin Tile works and the benefits of this innovative solution for remodeling bathrooms. After they had explained the process to the homeowner, they proceeded to show her a wide array of Thin Tile samples so she could pick the color and size of her brand new tile. She decided to go with a light-colored variety to give her bathroom a bright and spotless appearance. The homeowner couldn't wait for the day of the job to come – she had already envisioned what her new bathroom would look like.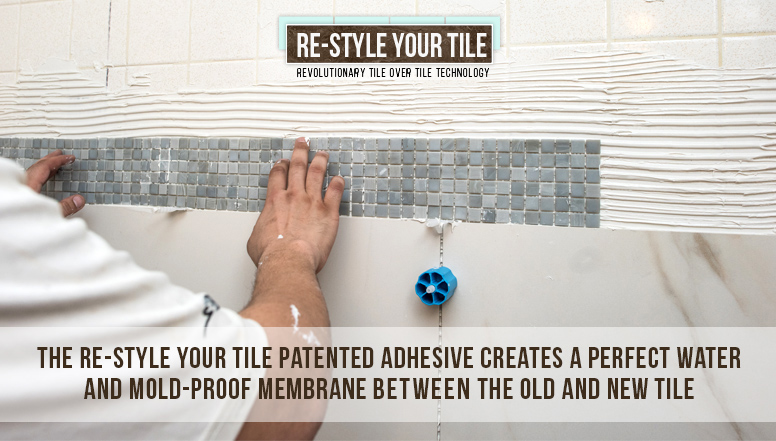 When the day finally came, the team made sure to protect the bathtub and surrounding areas. After this was done, we proceeded to carefully install the Thin Tile over the old tiles on the shower walls (see picture above). To secure the new tile, we used a patented adhesive that creates a perfect waterproof membrane, which can prevent leaks and other severe water damage issues down the road. Another plus? This waterproof barrier is also mold-proof. The next step was to apply Stainmaster® grout to create stain-, water-, mold-, and mildew- resistant grout lines. After the shower walls were done, we repeated the same process for the bathroom floor.
Once the homeowner saw her new bathroom, she couldn't hold back the excitement. She was shocked at how quickly her bathroom was transformed – it had only taken 1 - 2 days to complete! How rare is that? The best part was that there was no mess or loud noises during the whole process. She congratulated the Re-Style Your Tile team for accomplishing such an amazing and flawless renovation in a short amount of time.
Thin Tile is the best solution if you're thinking about remodeling and want to avoid the annoying and time-consuming process of demolition. Thanks to its large tile format, the results are a quicker installation and fewer grout lines. This thin, yet strong Italian porcelain tile is also resistant to hard water and stains, so homeowners don't need to waste valuable time cleaning the tiles and grout lines. This makes Thin Tile both a long lasting solution and a wise investment.
Do you want to remodel your bathroom without having to demolish your existing tiles? Then choosing Thin Tile is your best option for a quick and stress-free renovation. If you want to learn more about Re-Style Your Tile or if you want to schedule a free quote, then call us directly at (844) 614-5500 or fill out the Request a Quote section at the bottom of this page.