More than a Makeover in Asbury, NJ: This Shower Got an Astonishing Transformation in Just One Day with Our Cutting-Edge Tile Over Tile Technology
February 14, 2017
Sometimes the hustle and bustle of daily routine can make you blind to your everyday environment and it takes a quiet moment of contemplation – usually in the bathroom—to get you to notice the obvious: a lot of time has passed. You know because your lolling gaze suddenly fixates on the dulled and discolored tiles. "Good God!" you think out loud. The yellowing grout is making you squeamish and this design is so outdated you feel inside a period film. Maybe it's time, you say to yourself, to do a renovation. You pull out your smartphone and google "renovation services" and "renovation ideas", and are quickly bombarded with dreamy pictures of comfy and eclectic bathroom designs. You smile and start thinking that a renovation is the best idea that has ever crossed your mind, but that is before you start thinking of how much time it will take. Your entire thought process shifts. Maybe it isn't such a good idea: too much hassle, too much noise, living with dust is a pain… yet you look back at your archaic tiles and the cycle begins again.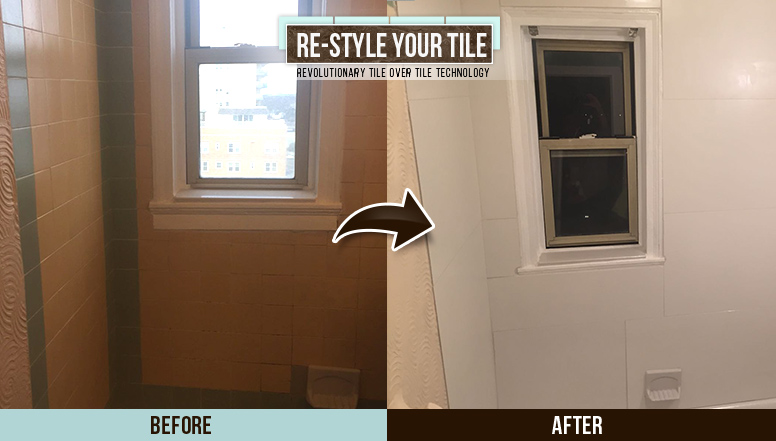 Rob, a homeowner from Asbury, NJ, was in this predicament. His bathroom was very old and both he and his wife wanted to do something about it, but they feared how a messy renovation would alter their daily routines. Adding to that slew of worries was their youngest son, who suffers from asthma. A big renovation creates an environment filled with dust, which is dangerous for children with this condition. Having taken all of this in consideration, a renovation was a no-go.
But Rob's wife still wanted to look for an alternative. Her research eventually lead her to thin tile, the latest and most innovative product coming from the European construction and design industries, and the tile over tile installation technique. Since it was touted that this option was less time-consuming and hassle-free, she started looking for local companies in Asbury that offered this service. She eventually found the experts at Re-Style Your Tile. Excited, she filled out a "Request a Quote" form and made an appointment.
When our team of experts arrived, Rob and his wife were anxiously waiting. They were curious about the properties of thin tile, what the installation process would be like, how long it would take, and if it would be safe around their son. As our team took measurements and showed our clients the ample catalog of tile designs to choose from, they answered all their questions. Thin tile is a high-quality super compressed porcelain tile that comes in larger sizes than regular porcelain tiles and is highly durable, light, and easy to install. It is also water-resistant and coated with anti-microbial agents that help prevent mold and mildew growth. They can be installed through the tile over tile technique, which lasts usually around one or two days and since this process does not involve any kind of demolition, there is no noise, dust, or debris to worry about. Once Rob and his wife were satisfied with the information provided and had chosen a minimalist yet beautiful ultra-white pattern design, our team scheduled the installation day.
A week later our technicians arrived in the early morning ready to work. To prepare the surfaces for the thin tile installation, they first applied a thick coat of our own patented water and mold-proof adhesive agent, which creates an impermeable membrane between the old and new tiles. After that was done, our experts installed the large format tiles on the walls, cutting it to fit the small window. Once the tiles were ready, our experts gave the finishing touches to the new bathroom with our proprietary Stainmaster grout, which creates stain-, water-, mold-, and mildew-resistant grout lines. What was most surprising is that the whole renovation with this technique took barely a day to complete.
The couple's expression was priceless when they saw the results. They held each other, staring wide-eyed at the drastic transformation. They both complimented our technicians on their swiftness and the quality of the job. Rob even sent us an email afterward:
"Sir Grout in Manasquan NJ, installed new tile over the old tile in my shower and it looks fantastic. The old tile was cracked and uneven and some of them were becoming loose. They got the job done in one day and it looks like a brand-new shower now. Ed was my main contact and he was extremely responsive to all my questions throughout the process and very patient and professional. The price was very reasonable and it was the best, most cost-efficient option for me. It was much cheaper than knocking down the tile and walls underneath and putting up new tile and it looks just as good as if that were done. This is an excellent option if you have an old bathroom and old shabby looking tile and do not wish to do major construction work. They even cut the tile so that it went snuggly around the window in the shower. Well done guys!" Rob P. Asbury, NJ
If you are considering changing the whole look of your bathroom but don't want to suffer through weeks of construction that wreck the comfort of your daily routine, alter the quality of your air, and numb your eardrums, then thin tile is surely for you. This cutting-edge European technology is the best alternative to messy renovations.
If you are interested in re-styling your old bathroom, contact our Re-Style Your Tile team at (844) 614-5500, or fill out a "Request a quote" form at the end of this page. You can also follow us on
Facebook at Re-Style Your Tile
, on
Twitter at @restyleyourtile
and on
Instagram at @restyleyourtile
.